St. Louis Cosmetic Laser Clinic Services
We are proud to offer the Excel V cosmetic laser by Cutera as a cutting-edge skin care option. It's broad range of applications make it a highly versatile complement to what we do at Transform Me.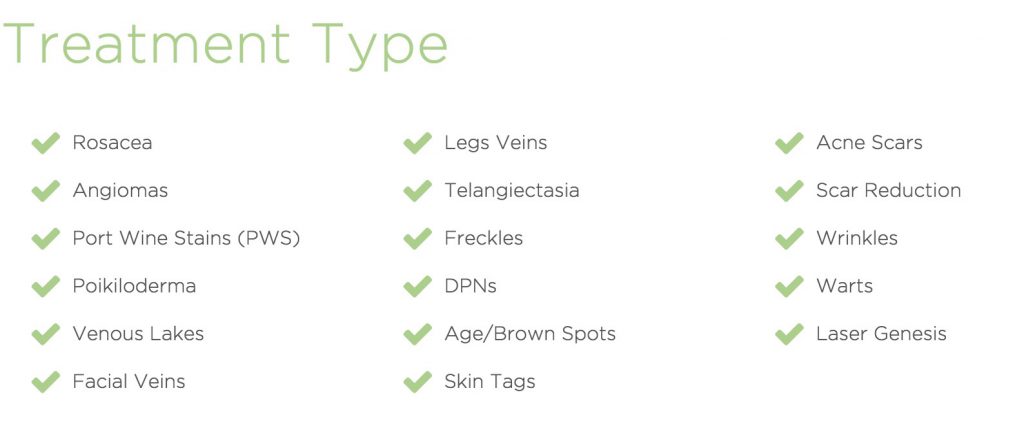 When you think of the Excel V, think of specific imperfections in your skin that you'd rather not be there. For instance, maybe you have little a few spider varicose veins on your nose or a few sun spots on your cheeks. Specifically, the Excel V targets anything that's not your normal skin color.  This includes but is not limited to red, blue and brown skin issues.
Reds and Blues: this is referring to unwanted blood vessels. These often occur on the face and legs but can be anywhere on the body. Typical lesions include spider veins on the face or leg veins or more diffuse redness such as rosacea.
Additionally, the Excel V is perfect for getting rid of bruises.  The aesthetic laser targets a specific component in blood and bruises are merely blood that is not in a blood vessel. This can be especially useful in a cosmetic practice like Transform Me where almost every procedure we perform is done with a needle.  Although we take lots of care not to cause a bruise, bruises occasionally occur. Now we can minimize their appearance and duration.
Browns: the Excel V's two wavelengths also targets benign pigmented lesions. These include sun damage spots, freckles, non-suspicious moles or brown spots.
Many patients are satisfied with just one cosmetic treatment, but depending on your skin and the imperfection we are targeting, more procedures may be necessary.
Treatment options available include:
acne scar removal and acne laser therapy
spider veins
scar reduction
varicose veins, including but not limited to the legs, arms, and face vein treatments
fine lines and wrinkles
sun damage or aging skin spots
laser hair removal
St. Louis Laser Acne treatment
Cystic acne sufferers are often left with permanent facial scars and have skin care concerns as they age. The scarring was caused by an infection that causes permanent damage to the skin and leaves a scar. We have worked with many patients who have found tremendous results with our acne treatment plan.
Laser Genesis Facial
Laser Genesis is a fantastic facial that offers immediate benefits with little to no downtime. It can be performed during a lunch break without coworker suspicion, and it is often performed in Hollywood just before walking the red carpet. Producing almost immediate glowing results.
Within the first few treatments, patients typically experience softened fine lines and wrinkles, reduced redness, reduced uneven skin tones, minimized pore size, and overall smoother, tighter skin.
Each treatment plan takes approximately 30 minutes, and best results are seen after 4-6 treatments spaced about 2-4 weeks apart.
Through the use of this technology, skin is restored at a cellular level, enhancing the body's natural collagen levels, as well as promoting increased skin elasticity. This mild treatment gently heats the skin surface, and many patients describe the feeling of the laser as warm raindrops on their face. Very rarely do patients complain of pain or discomfort during treatment.
Candidates for Laser Genesis include anyone who suffers from excessive facial redness, rosacea, hyperpigmentation, melasma, acne scars, fine lines and wrinkles, and overexposure to the sun. Laser Genesis is the perfect treatment for those with specific concerns because the procedure can be personalized to target that particular issue.
Contact our cosmetic skin and laser center today for a treatment plan with our personalized care. This is a tremendous non-surgical treatment option, avoid cosmetic surgery!