Complimentary Pickup and Dropoff Service!
CoolSculpting, St. Louis
CoolSculpting is an FDA approved, completely non-invasive way to reduce stubborn areas of fat. That means minimal downtime, no scalpel, not even a needle, just an hour in a comfortable setting.
How Does CoolSculpting Work?
CoolSculpting uses controlled cooling technology to freeze the fat without affecting the overlying skin.
Freezing fat cells to approximately 40 degrees Fahrenheit for about half an hour causes the cells to crystallize. Over the next eight weeks, the body gradually absorbs the unwanted fat.  It is ultimately filtered by the kidney and shed via the urine.
The technology has been around for approximately ten years, but recent changes have made it far more effective.  It all started when a couple of doctors noticed that children that eat a lot of popsicles have very little cheek fat- "popsicle panniculitis."  Since we cannot place a popsicle under the skin anywhere other than the mouth, the doctors devised a machine that would deliver cold temperature to the deeper layers of our body.  They came up with CoolSculpting. Reduce your stubborn fat.
What to expect during the treatment:
CoolSculpting in St. Louis  provides complimentary consultations at which we design an individual treatment plan based on your goals.
Treatment time and cost vary depending on the desired number of areas to be treated. CoolSculpting thighs (inner and outer), upper arms, the lower abdomen, flanks, and below the chin are the most common regions of the body, wherein the procedure takes place. Each area costs $750 and patients average about four areas.  Keep in mind; the right flank is considered one area and the left flank is considered another area.
During the procedure itself, the machine is attached to the desired site.  You then spend the next 30 minutes relaxing, watching TV, reading, or even taking a nap. After which, treated areas are massaged for a few minutes to disperse the crystallized fat cells and aid the body in absorbing them.  The machine is then reapplied to the next desired area.
Some patients may experience pulling, tugging, pinching, numbness or discomfort during the procedure, but most report they are quite comfortable.
CoolSculpting requires minimal downtime, and many patients return to their normal activities immediately after treatment. In the following weeks and months, the body progressively absorbs the dead cells. The unwanted fat is ultimately filtered through the kidneys and shed in the urine.
Results can be seen as soon as two weeks post-treatment, but the most noticeable changes will occur at about 2-month mark. The body can take up to 4 to 6 months to shed the destroyed fat cells. Individual timeframes and results may vary.
Overall, most patients experience a 20% decrease in fat after each treatment.
Post-treatment, typical side effects include temporary numbness, redness, swelling, bruising, firmness, tingling, stinging and pain.
The procedure is not for everyone, nor is it a treatment for obesity or weight loss.  Ideal patients are people that take good care of themselves with diet and exercise but have lingering areas of stubborn fat despite their healthy lifestyle.  Please remember, although CoolSculpting is a great body sculpting tool, there is no substitute for good choices that include eating right and exercising.
After a thorough assessment, our providers can help you decide if CoolSculpting is the appropriate treatment to achieve your desired results.
Real Patients Before and After, CoolSculpting Results
CoolScuplting Frequently Asked Questions
1. What exactly is CoolSculpting? Is this the Mommy Makeover?
Well, that's a great question. CoolSculpting is an FDA-cleared fat reduction treatment that is non-surgical. The process will reduce fat that is resistant to more traditional methods (i.e., diet and exercise) by using a controlled cooling method.
It is a completely non-invasive treatment for getting rid of excess body fat.
Non-invasive means we do not puncture the skin with a scalpel, which would be classified as invasive, or a needle, which would be minimally-invasive.
As the name implies, the machine uses freezing temperature to selectively combat fat cells. You see, we have the same number of fat cells in our body from our teenage years on. When we gain weight, our fat cells grow. When we lose weight, our fat cells shrink. Many patients view this as an alternative to cosmetic surgery or a tummy tuck.
This machine combats the fat cells.
2. What's the typical reaction from first-time CoolSculpting patients?
Patients initially don't believe it. There have been a lot of false claims made about unwanted fat reduction in the past and people have been burned.  We discuss the treatment and encourage you to do their own online research. We're not going anywhere and are happy to treat you when you are ready.
3. Is this going to hurt?
Most patients say it is a relatively painless procedure consisting of a mild numbing sensation as the treatment area is cooled down. Initially, some patients report a cold feeling that will grow numb within five to ten minutes. The skin feels cold for about 5 minutes but is usually completely numb for the next 30 minutes.  During the process, you may feel some suction as the treatment is applied to the body area.
4. What is the process?
The patient identifies an area on his or her body that bothers them. We then connect the machine to that area and let it run for 35 minutes. Afterwards, we massage the area and connect the machine to the next trouble spot. And that's it.
A lot of patients are skeptical, but this machine has been studied in over a hundred peer-reviewed controlled trials and has FDA approval for fat reduction in the abdomen, love handles, inner, outer and back of the thighs, back of the arms, and double chin.
5. Are there any side effects?
During the treatment you may feel some pinching, pulling, tugging, a mild cold, stinging, tingling, and cramping at the treatment site. This will typically subside as the area becomes numb. After the procedure, there may be some temporary redness, aching, mild cramping, itching, skin sensitivity, bruising, blanching, skin sensitivity, firmness, and tugging. These typically resolve within days or weeks. If you have any concerns about your Transform Me CoolSculpting, just call us.
6. How much does the treatment(s) cost?
Typically CoolSculpting costs can vary, depending on the area of treatment and what your individual needs and goals are. A lot of patients opt to have several body areas treated to gain maximum results and effects. Each area is $750, or $700 for prime members. The average cost of treatment long term can be between $1,500 and $4,000, depending on what your treatment plan is.

7. How long before I can return to normal activities?

The great thing about this procedure is it's completely non-surgical, allowing you to return to normal activities immediately. Patients usually return to work the same day after the treatment.
8. Where does the fat go?
Once the procedure is done, the targeted fat cells are metabolized by the body and shed through your natural waste system. Once the fat cells are gone, the results can be long-lasting. To date, there have been more than 4,000,000 procedures worldwide.

9. How long before I see results? What kind of results can CoolSculpting patients expect?
Although the process begins immediately, you may not see results right away. Typically it can take up to three weeks after your initial treatment to see the results with best results seen around two months. However, the process of flushing will continue for an additional four to six months. Individual timeframes and results may vary.
Most patients see a 20-25% reduction in fat in the treated area within one to three months.
It works so well, many of our patients return for treatments in other areas.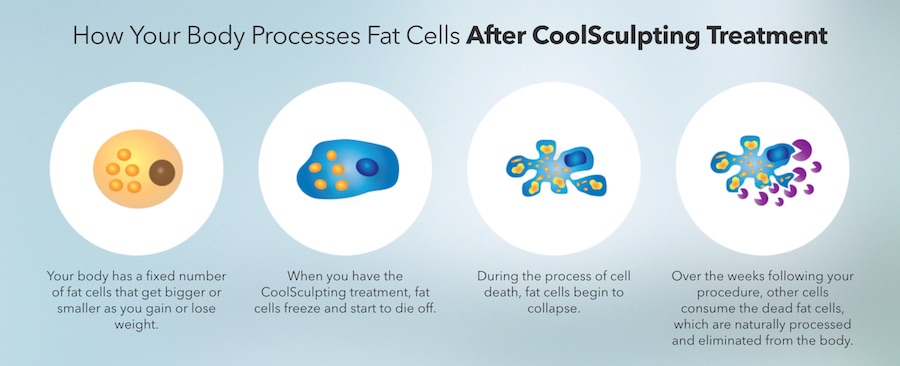 Latest Testimonial:
The Dr. and his staff are so amazing! I had CoolSculpting done. It was so convenient to be able to have two areas treated at once! The CoolSculpting nurse was very friendly and explained everything to me; she made me feel very comfortable during the procedure. I was back at work within 2 hours. They get a 10 out of 10 in my book!
Jessica R.
St. Louis, MO
Individual Results May Vary
Contact us today for a complimentary consultation.